Key Features:
SOLD IN PACKS OF TWO
Non-latex flat exercise band; 18 feet (6 yards) long by 4 inches wide
The preferred latex-free band for many health and fitness professionals
New, improved non-latex formula
No latex. No powder. No odor.
One progressive color scheme to remember
Each roll comes in a box with cut-out dispenser on the top
New formula REP Band(TM) Resistive Exercise Products are designed to have characteristics that are virtually identical to latex bands, but without the danger of latex allergic reactions. The new formula REP Band offers greater elastic response, higher resilience, and faster recovery than the previous formulation. Made of FDA-approved synthetic polymer material that has been skin tested and proven non-allergenic, REP Band Resistive Exercise Products contain no latex or dry natural rubber. REP Band Products allow you to stock one line that facilitates all types of resistance therapy, even aquatics, plus gives you the performance of latex without the hazards. Item includes two separate dispenser boxes each containing an 18 feet (6 yards) roll.

| | | |
| --- | --- | --- |
| Color | Classification | Resistance* |
| Peach | Level 1 | 3-4 lbs |
| Orange | Level 2 | 5-6 lbs |
| Green | Level 3 | 6-7 lbs |
| Blue | Level 4 | 8-9 lbs |
| Plum | Level 5 | 10-11 lbs |
*at 100% elongation
Related Products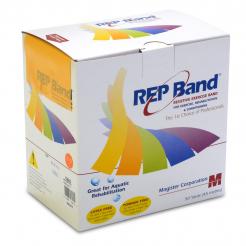 Wholesale 50 Yard Latex-Free REP Resistance Band
$70.00 - $116.00


25 Feet Latex-Free REP Tubing
$10.35 - $16.40


5ft Latex-Free REP Band (12 Pack)
$39.60 - $56.40